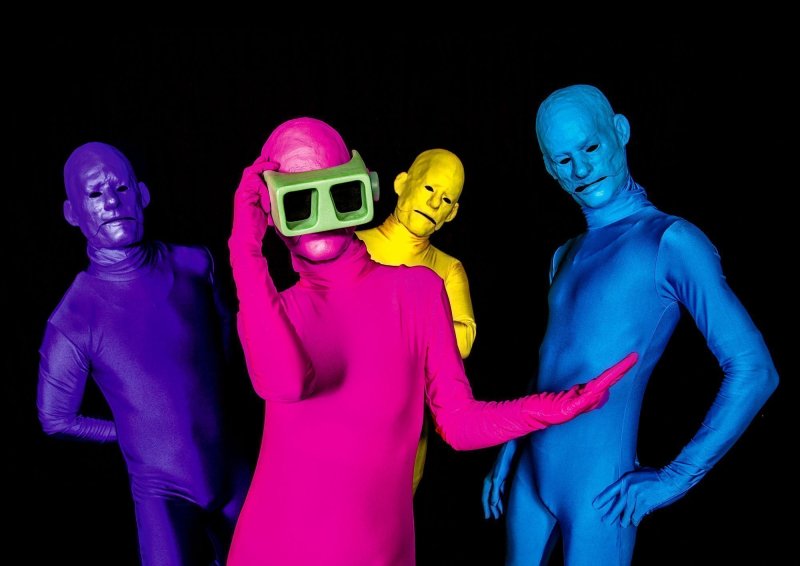 half past selber schuld (IL/DE/US)
The Last Mortal
Following "Kafka in Wonderland", half past selber schuld present their first English-language stage comic and the second part of their trilogy "Wonderland Inc". "The Last Mortal" deals with man's eternal struggle against disease and death. The mega-corporation Wonderland Inc. is further engaged in improving man by technological means. Racism is combated with skin colour filtering, while tiny nano-robots battle disease in the body while stumbling over fundamental philosophical questions.

"The Last Mortal" is a collection of situations that uses music, puppetry, character play, films, and dance and shadow scenes to traverse various stages of this fictional future, depicting its radical upheavals while expressing the drama of a transitional generation. The path of the mortal, organic human to the immortal, artificial hybrid is traced. Inspired by thoughts and prognoses of transhumanist thinkers like Ray Kurzweil and other visionaries, half past selbst schuld satirically exaggerates the actual technological state of our world. In the process, hopeful images and disturbing scenarios are created that are intended to represent the entire spectrum of this progress and, in addition to the tremendous new possibilities, also reveal its contradictions.

The German-Israeli artist duo, consisting of Ilanit Magarshak-Riegg and Sir ladybug beetle, became known through their elaborate music productions, animated films and especially stage comics. At the Stadttheater Fürth, the last part of the "Wonderland Inc." trilogy, "What Robots Need to Learn," is also running in the festival programme.
Tue 16 May
19:00-20:00
Erlangen / Redoutensaal
Theaterplatz 1
Screenplay, Direction, Composition, Production: half past selber schuld
Co-Author: Eli Zachary Socoloff Presser
Live-Team: half past selber schuld, Florian Deiss, Marko Erak Bonsink, Tijmen Brozius, Bruno Belil, Roy Tracy, Anya Askew
Lightng Design: Tobias Heide
Sound, Video: Lex Parka
Music: half past selber schuld with Lex Parka, Sven Kacirek, Dodo NKishi
Video: half past selber schuld, Axel Ricke, Carlos Fleischer
Shadow Design: half past selber schuld, Christine Marie
Photo, Graphics: Christian Ahlborn
Co-Produced by FFT Düsseldorf, internationales figuren.theater.festival Nürnberg, Erlangen, Fürth, Schwabach, Fidena Bochum and Pumpenhaus Münster / Supported by the Ministry for Culture and Science Nordrhein-Westfalen, Cultural Office Düsseldorf, Fonds Darstellende Künste e.V. and Stiftung Van Meeteren
Elevator (100 x 140 cm, clear door width: 78 cm) and seats for wheelchair users are available – please contact the theatre box office directly for booking or email service@theater-erlangen.de. Wheelchair accessible toilet (Euro key) on the ground floor.
A temporary induction system will be installed for the duration of the festival. Audiences can use the induction system either via headphones or their own hearing aids. A limited number of FM receivers with neck-held induction loops can be borrowed for a deposit at the respective day and evening box offices – if possible, please bring your own headphones if your hearing aid is not designed for inductive hearing.
in German and English
| Preisart | Betrag |
| --- | --- |
| Box office: | 18,00 Euro |
| Box office reduced: | 12,00 Euro |
Service fees apply for advance booking.
Concession applies for school children and university students, apprentices/trainees, people serving federal community or military service, volunteers fulfilling a social/ecological/cultural year (up to the age of 30), beneficiaries of social security and ALG II, as well as asylum seekers, holders of the Erlangen Pass as well as handicapped people (from 50% degree of disability). Admission free for companions of handicapped people (identity document with B-remark). Only one type of concession can be claimed at a time and will be granted upon presentation of the appropriate proof. Please provide verification at the door.