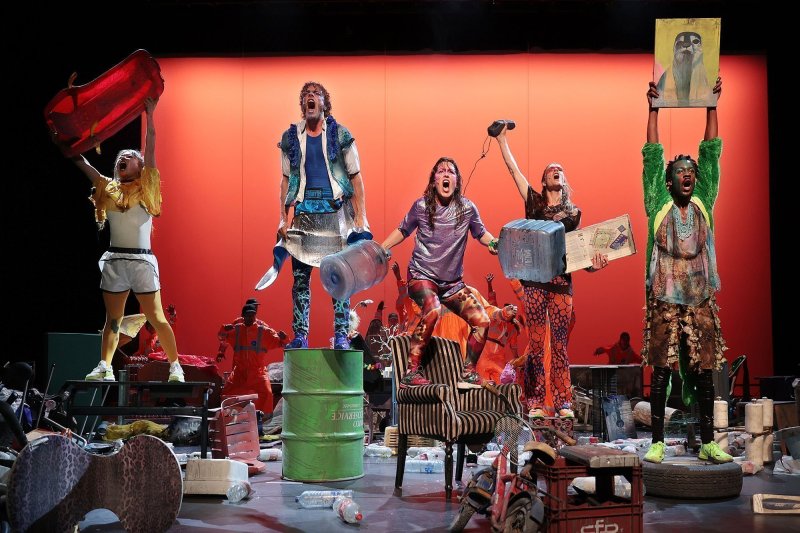 German Premiere
Nicole Beutler Projects (DE/NL)
GINKGO or: 56 million years ago there were palm trees on the North Pole
A farewell to the world as we know it
Nicole Beutler's productions are driven by the longing for a better society. All of her activities invite a critical examination of the human condition. "It is my responsibility as an artist to open new spaces for thinking, both socially and artistically. Together we can change the world," says the Amsterdam-based, multi-award-winning choreographer.

In "GINKGO or: 56 million years ago there were palm trees on the North Pole," the first part of a trilogy titled "Rituals of Transformation", she confronts the fear of the possible end of humanity: "What if everything collapses. What if humanity chokes on its own garbage. What if the earth claims its place." "GINKGO" is one last ecstatic dance at the dump of civilization. Gary Shepherd's futuristic music provides the cinematic guide, kept on track by Dorit Chrysler on theremin as Master of Ceremony. The singers of the Consensus Vocalis Choir recall a bygone era with Mozart's Lacrimosa. Partings may hurt, but when we let go, space for new perspectives and unexpected beauty emerges. Nicole Beutler invites audience members to rehearse the future.

"Beutler's GINKGO is a kind of performance version of the Blade Runner movie set, post-apocalyptic, amid the rubble of a broken world. Part extinction rebellion protest, part Greta Thunberg rally, but always relentless, right in your face, hyper-dynamic total theatre, GINKGO is a piece that can't be overlooked." (Arts Talk Magazine)

Would you like to know more?
The following link connects you to the podcast "Discover The Secrets Behind Ginkgo".
Wed 17 May
19:00-20:30
Erlangen / Markgrafentheater
Theaterplatz 2
Concept, Direction, Choreography: Nicole Beutler
Created with the performers: Melyn Chow, Hillary Blake Firestone, Felix Schellekens, Cesirhe Sedney, Marjolein Vogels
Music: Gary Shepherd, W. A. Mozart, Camille Saint-Saëns
Theremin composition + performance: Dorit Chrysler
Choir: Elma Dekker, Alice van de Geest, Kazue Goto, Kitty Lai, Carmen de Haan, Sarah van Lieshout, Ingrid van Ree, Felis Jago Larham, Aart Schutte, Leo de Visser, Bas Cornelissen, Sam Eggenhuizen, Hidde Kleikamp
Dramaturge: Igor Dobričić
Scenography: Marloes & Wikke
Lighting Design: Minna Tiikkainen
Costumes: Jessica Helbach
Repetitor: Joäo Dinis Pinho
Assistant director: Catarina Ferreira da Silva
Voice lessons: Charles Hens
Ballet lessons: Alfredo Fernandez
Understudy: Djamila Ploeg, Rob Polmann
Sound: Valentijn Berkhout
Light: Prem Scholte Albers, Nicholas Hermans
Décor, General Technician: HP Hulscher
Musical Director Consensus Vocalis: Béni Csillag
Acquisition and tour planning: Theaterzaken via Rudolphi
Co-Produced by Consensus Vocalis, O. Festival for Opera. Music. Theatre and Julidans / Supported by ITA, Opera Ballet Vlaanderen, Grand Theater Groningen / Made possible by Fonds Podiumkunsten, Amsterdam Fonds voor de Kunst, Fast Forward, Fonds 21 / With many thanks to Goethe-Institut Amsterdam, Christian Guerematchi (first cast), Imre Ploeg NKK Next (research), Guy Cools (Boek Performing Lamenting), Toneelgroep Oostpool
Elevator (95 x 145 cm, door width: 90cm) and seats for wheelchair users are available on the 1st floor gallery – please contact the theatre box office directly for booking or email service@theater-erlangen.de. Wheelchair-accessible lavatory (with Euro lock) avaiable.
Induction loop for hearing impaired audiences permanently available in rows 4 to 12 in the stalls.
in English and Dutch with German surtitles
Preisart
Betrag
Category 1
Box office:
28,00 Euro
Box office reduced:
18,00 Euro
Category 2
Box office:
24,00 Euro
Box office reduced:
14,00 Euro
Category 3
Box office:
16,00 Euro
Box office reduced:
10,00 Euro
Category 4
Box office:
10,00 Euro
Box office reduced:
7,00 Euro
Category 5
Box office:
6,00 Euro
Box office reduced:
5,00 Euro
Service fees apply for advance booking.
Concession applies for school children and university students, apprentices/trainees, people serving federal community or military service, volunteers fulfilling a social/ecological/cultural year (up to the age of 30), beneficiaries of social security and ALG II, as well as asylum seekers, holders of the Erlangen Pass as well as handicapped people (from 50% degree of disability). Admission free for companions of handicapped people (identity document with B-remark). Only one type of concession can be claimed at a time and will be granted upon presentation of the appropriate proof. Please provide verification at the door.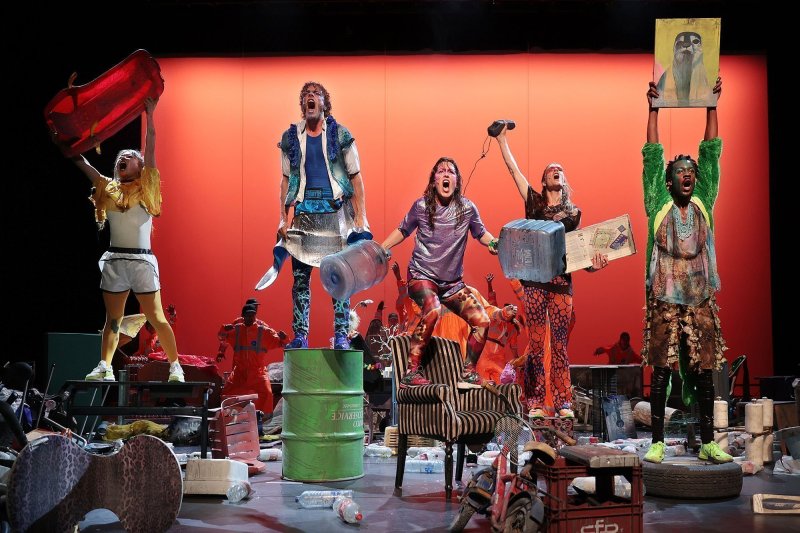 © Anja Beutler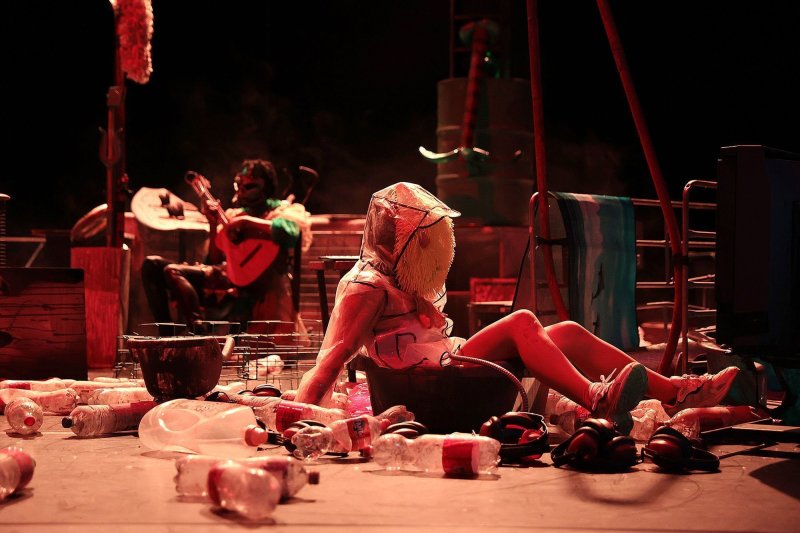 © Anja Beutler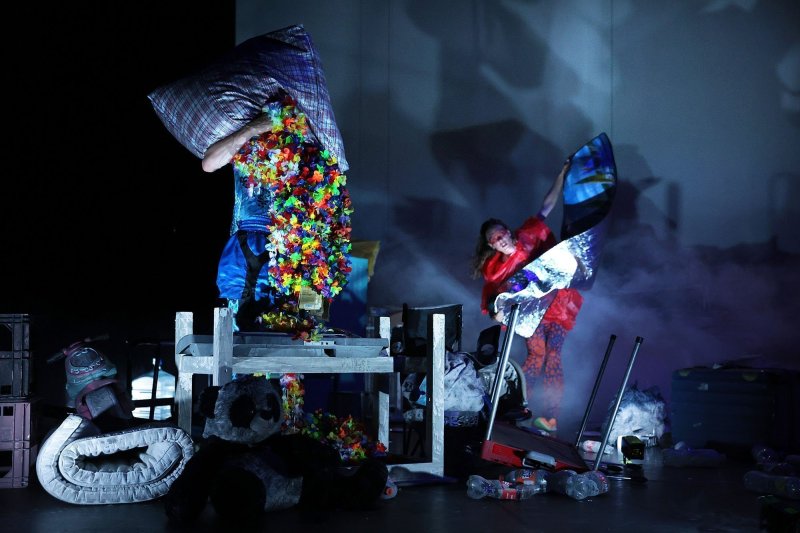 © Anja Beutler
Dates
Erlangen
Markgrafentheater