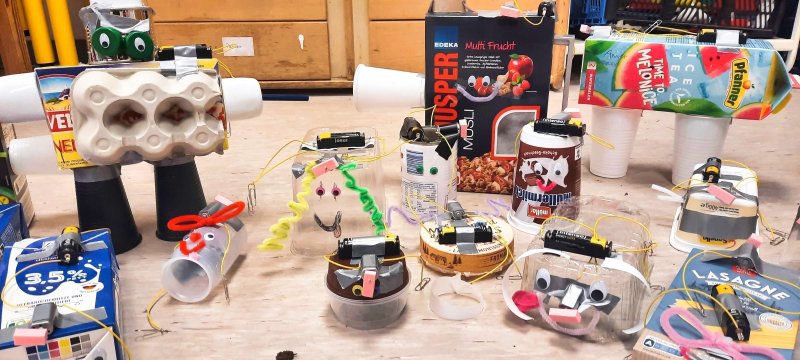 Roboter-Workshop für Schulklassen
mit Yvonne Dicketmüller
Little tinkers build their first robot!

Do not be afraid of technology is the motto of this robot workshop for children. Because: Building your first own robot is not that complicated. A small mechanical system can be created with just a few technical components. In this workshop, small artists will get their money's worth just as much as tomorrow's engineers.
In terms of content, the workshop can be integrated into the subjects of art or general knowledge and is designed for the 2nd to 4th grade. In the subject of general knowledge, the workshop fits particularly well in the field of electricity, because the students learn how to build an electric circuit themselves with simple means. The second part of the workshop focuses on artistic design.
In the end, every student takes his/her robot home with him/her.

Please bring: old milk cartons, packaging of grapes, etc.
The packaging should be light and clean.

Participation fee: 51€ per class (already supported by KUBIK and Kulturamt)

Possible dates for the workshop are the 15th, 16th, 17th and 19th of May in the morning.
The workshop takes place in the classrooms.
Fri 19 May
09:00-10:30
Fürth / Kulturamt der Stadt Fürth / Figurentheater
Königsplatz 2
| Preisart | Betrag |
| --- | --- |
| Box office: | 51,00 Euro Costs per class |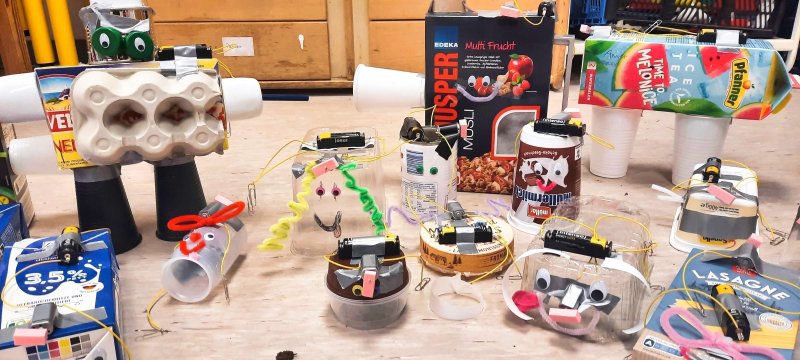 © Yvonne Dicketmüller
Pre-registration: kultur@fuerth.de or 0911/974-1681
More dates
Fürth
Kulturamt der Stadt Fürth / Figurentheater
Fürth
Kulturamt der Stadt Fürth / Figurentheater
Fürth
Kulturamt der Stadt Fürth / Figurentheater