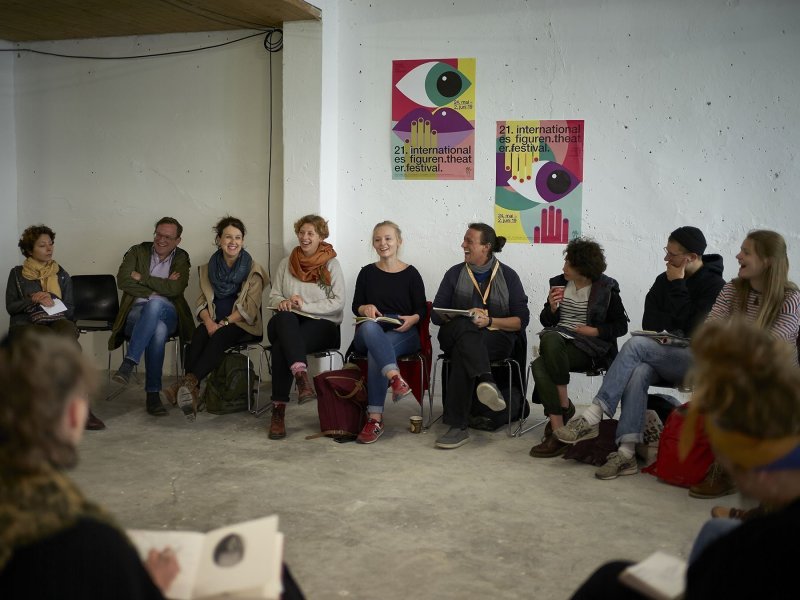 Gespräch
Tiefenbohrungen – Figurentheater analysieren
Students fof the Figurentheater programme at the State University of Music and Performing Arts Stuttgart and the Institute for Theatre and Media Studies at the Friedrich-Alexander-Universität Erlangen-Nürnberg will meet in a joint format and invite you to talk about selected performances of the festival. The public talks will be introduced by short statements by the students, who will also act as moderators.

The following productions will be discussed:

17 May 2023
Akhe: "Ikarus", Hotel Modern & Arthur Sauer: "Our Empire", Philippe Quesne / Vivarium Studio: "Farm Fatale".

20 May 2023
Nicole Beutler Projects: "GINKGO or: 56 million years ago there were palm trees on the North Pole", Berlin: " The making of Berlin ", Studio Julian Hetzel + Ntando Cele: "SPAfrica".
Sat 20 May
14:00-15:30
Erlangen / Base Camp
Hauptstr. 55
Venue suitable for wheelchair users. No wheelchair accessible toilets available.