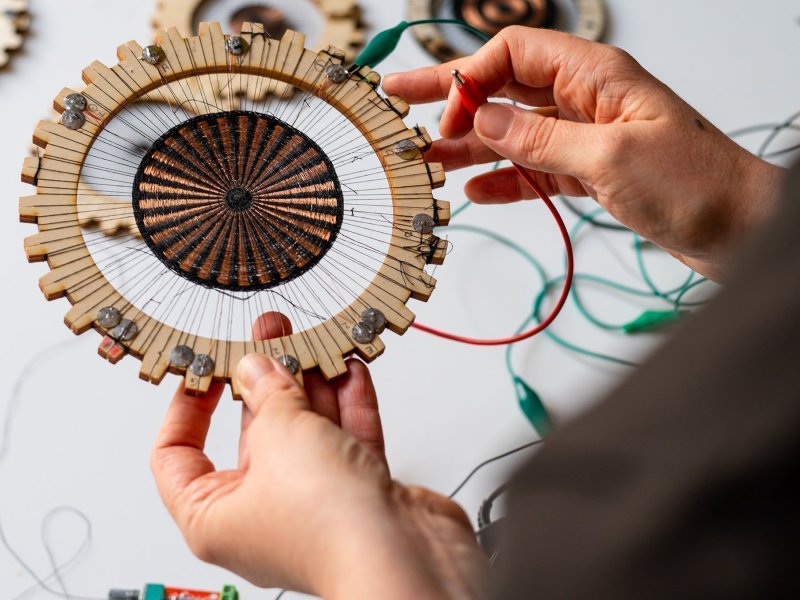 Yvonne Dicketmüller
Textil und Technik
3D-printed costumes, hand-woven speakers and e-textiles embroidery

At the international figuren.theater.festival 2021, Yvonne Dicketmüller showed her interactive robot installation "Ein Platz an der Sonne" (A place in the sun) in the hallway of the Babylon cinema. For this year's festival, the puppet, object and textile artist from Bochum is a guest at kultur.lokal.fürth. Here she gives insight into her technically inspired textile art. In 2020, she made magnets out of a microwave that was no longer functional, as well as a finely wound coil with enameled copper wire, and experimented with textile manufacturing techniques. The result are woven loudspeakers from which music from the 1990s can be heard. Puppet maker Yvonne Dicketmüller has also been researching customized clothing from the 3D printer since her fellowship at the Dortmund Academy for Theatre and Digitality. She also brings textile art and technology together in her e-textiles embroideries. Anyone is invited to look over her shoulder, take part in a craft activity themselves or even just visit the exhibition.

The craft activities with conductive textiles (E-textiles, DIY-textile circuits, textile switches) will take place on the following dates:
Monday, 15 May, starting 17:00
Wednesday, 17 May, starting 17:00
Ages 16 +
Workshop contribution: € 5 each

As part of the 23rd international figuren.theater.festival, Yvonne Dicketmüller is also showing "Stina und der Tentakelarmverkäufer" (Stina and the tentacle seller) at the Kulturforum Fürth. She has developed a very special theatrical format for the robot thriller for children: The production is driven by an analog crank stage, a so-called crankie, which is played with digital content.
Sat 20 May
15:00-19:00
Fürth / kultur.lokal.fürth
Bahnhofplatz 2
Parts of the exhibition and the Open Workshop are accessible to wheelchair users at ground level. The second level can be reached via several steps.
No induction loop for hearing impaired audiences available.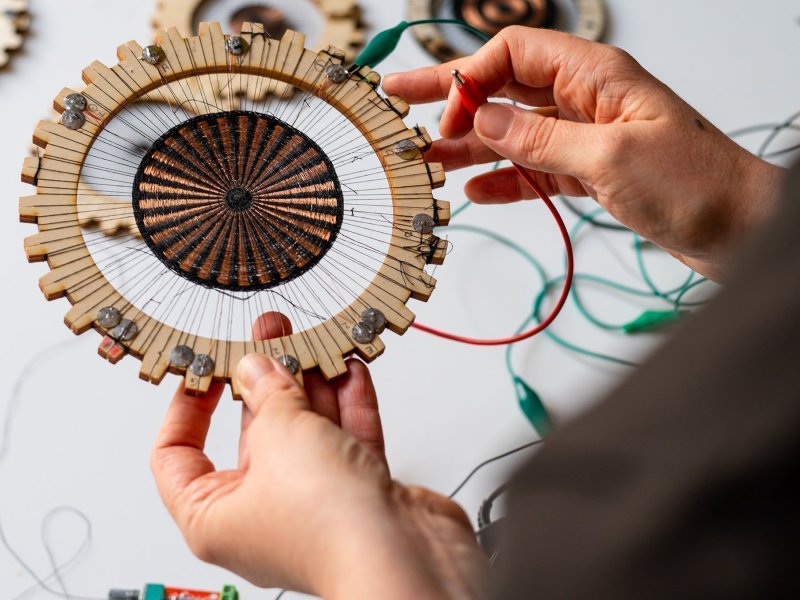 © Agentur Donna und der Blitz