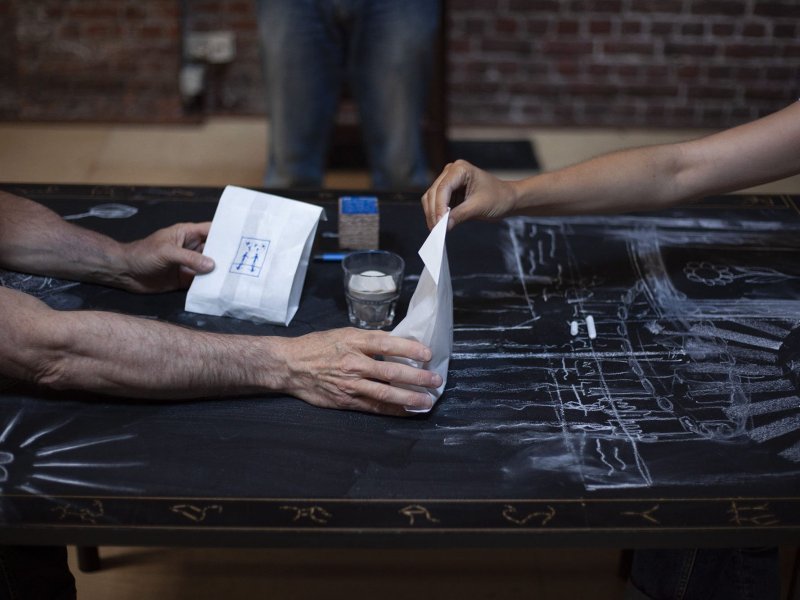 German Premiere
Robbert&Frank Frank&Robbert (BE)
Earth – Table Dialogues
Table Dialogues is a long-term project by visual theatre makers Robbert&Frank Frank&Robbert for which they are designing five interactive performances that correspond to the elements of Chinese Wu Xing: earth, fire, water, wood and metal. The artists are immersing themselves in the concept of theatre production as a modular entity, analogous to an anthology of short stories. In this way, Table Dialogues will be a collection of intimate performances centred on dialogue, wonder and the joy of playing.

"Earth", which was presented as a tryout during the festival in 2021, is an experience for two people in three parts: analogue, virtual reality and drawing. The audience is divided into pairs, with one person sitting across from the other at long tables. From here they are invited to breathe life into a cosmos which may hold hidden truths about themselves and their table partner. As they talk and draw they create a gift for each other.

Robbert&Frank Frank&Robbert employ the same dialectic they experience as a duo when they play, create and develop projects together. What is important to them is, that they want to share not only the result, but also the process and the experience itself with the audiences.
Wed 17 May
15:00-22:30
Erlangen / Ladengalerie Altstadtmarkt
Hauptstr. 55
Concept, Direction, Scenography: Robbert&Frank Frank&Robbert
Animation, VR: Filip Anthonissen
Script, Voiceover: Jonathan Beaton
Music: Boris Zeebroek
Coaching: Klasien van de Zandschulp, Wim Forceville
Production: WuWao
Management: Vincent Company
Special thanks to VAF (Flemish Film Fund) and Flanders – State of the Arts / Co-Produced by Auawirleben, De Brakke Grond, Kunstencentrum Campo, Reiefestval, R&F F&R VZW
Event is suitable for wheelchair users.
No induction loop for hearing impaired audiences available.
in English
| Preisart | Betrag |
| --- | --- |
| Box office: | 16,00 Euro |
| Box office reduced: | 10,00 Euro |
Service fees apply for advance booking.
Concession applies for school children and university students, apprentices/trainees, people serving federal community or military service, volunteers fulfilling a social/ecological/cultural year (up to the age of 30), beneficiaries of social security and ALG II, as well as asylum seekers, holders of the Erlangen Pass as well as handicapped people (from 50% degree of disability). Admission free for companions of handicapped people (identity document with B-remark). Only one type of concession can be claimed at a time and will be granted upon presentation of the appropriate proof. Please provide verification at the door.