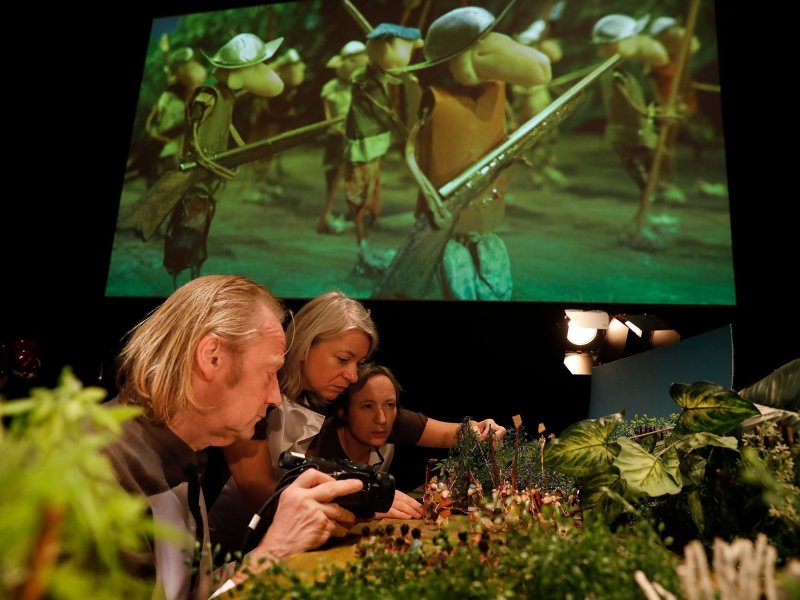 German Premiere, #globalperspectives
Hotel Modern & Arthur Sauer (NL)
Our Empire
Hotel Modern & Arthur Sauer turn their gaze to the rise of 'our' East Indies. Our Empire provides stories about the early history of the Netherlands and Indonesia. A vast scale model of the Indonesian archipelago fills the stage. We see paddy fields, rainforests, mosques, villages and cities. This island kingdom in miniature is populated by hundreds of 8cm-tall puppets. The stories take place in the 17th century. We see Javanese princesses performing ancient court dances, and markets selling cloves, nutmeg and pepper. We watch enterprising Dutch merchants arrive at the islands in their mighty sailing ships, in search of costly spices. To safeguard their trade, they bring along powerful mercenary armies that seize control of more and more of the islands. We see cannons blasting, ships sinking, villages going up in flames, and princes selling spices and their own souls to the Dutch.

Hotel Modern uses ingenious puppetry to show how the process of colonisation took place. The decision to create "Our Empire" was inspired by the family history of core company member Herman Helle, whose parents were born in the Dutch East Indies. In course of their research, Hotel Modern consulted with Indonesian artists, historians and Dutch people with an Indonesian background.

Recurring visitors of the figuren.theater.festival surely remember other performances by Hotel Modern, like "Kamp" (2007) or "The Great War" (2005). In "Our Empire", they combine theatre, visual arts, animation and music into a touching movie experience.
Fri 12 May
20:00-21:00
Fürth / Kulturforum Fürth, Große Halle
Würzburger Straße 2
Object Theatre
Live-Animation Film
Concept, Makers and Performers: Herman Helle, Arlène Hoornweg, Pauline Kalker
Live Soundtrack: Arthur Sauer
Soundtrack Assistant: Ruud van der Pluijm
Voices Soundtrack: Ida Ayu Maha Dewi, Tomy Herseta, Ruud Agerbeek, Jorn Heijdenrijk, Menno Vroon, Tomer Pawlicki, Maartje van den Brink, Laura Mentink
Set building assistants: Marsha Agerbeek, Heleen Wiemer, Kirsten Hutschemakers, Simon Schrikker, Juliet Campfens, Mark Hosking
Costumes: Roelie Westendorp, Caroline Hogendoorn
Technicians: Joost ten Hagen, Joris van Oosterhout, Edwin van Steenbergen, Pablo Strörmann
Venue suitable for wheelchair users. Barrier-free access to the foyer and the main venue 'Große Halle' is possible via a ramp. Seats for wheelchair users are available – please notify the organisers in advance by calling 0911 / 973 84-0 or emailing info@kulturforum-fuerth.de. Wheelchair-accessible toilet available on the ground floor.
No induction loop for hearing impaired audiences available.
| Preisart | Betrag |
| --- | --- |
| Advance booking: | 18,00 Euro |
| Advance booking reduced: | 14,40 Euro |
| Box office: | 20,00 Euro |
| Box office reduced: | 10,00 Euro |
Service fees apply for advance booking.
Concession applies for school children and university students, apprentices/trainees, people serving federal community or military service, volunteers fulfilling a social/ecological/cultural year (up to the age of 30), beneficiaries of social security, as well as asylum seekers and holders of the Fürth Pass. 75% concession for handicapped people (identity document with B-remark) and their companions. Only one type of concession can be claimed at a time and will be granted upon presentation of the appropriate proof. Please provide verification at the door.