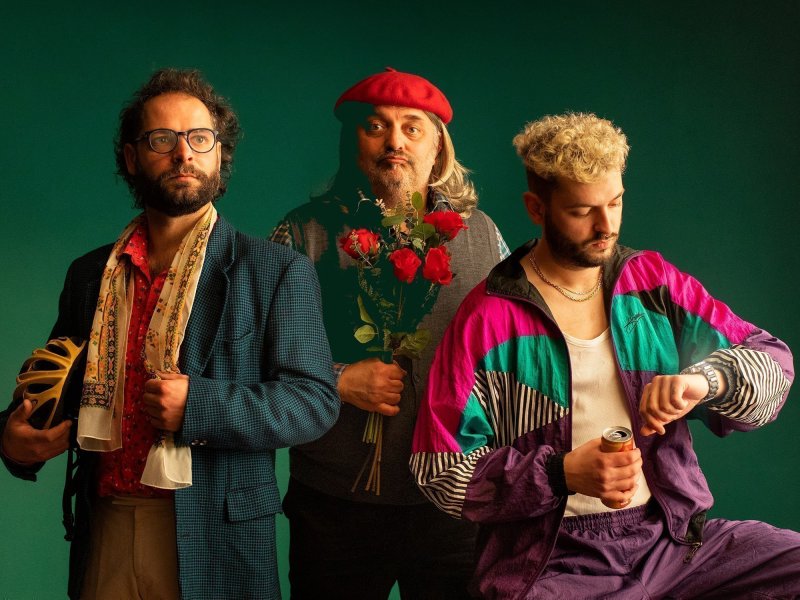 Premiere
Theater Kuckucksheim (DE)
Am Kiosk
A Franconian Comedy
Life writes the craziest stories, and stories come to life where people meet. Walter grew up in his charming kiosk in a small Franconian town and has been running it ever since he can remember. The kiosk is a meeting place for a wide variety of characters, with all their idiosyncrasies and uniqueness. For example, Pommes, who regularly stops by the kiosk and exchanges all the important news from the neighbourhood and the whole world with Walter. One day, however, everything in their everyday lives changes in one fell swoop. A mysterious stranger shows up at the kiosk. All he really wants is a cup of coffee, but in his haste, he forgets his bag _

Events, encounters and decisive moments from the lives of the three characters come to light. With everything the kiosk has to offer, they look together into the depths of the Franconian soul. Lust and vice, anger and doubt, highs and lows shake hands in a humorously poetic way. When words are no longer enough to express emotions, only the power of music can help. Real life takes place at the kiosk.
Tue 16 May
19:00-20:20
Erlangen / Glocken-Lichtspiele
Hauptstraße 46
Puppet Theatre
Theatrical Performance
Script: Theater Kuckucksheim
Performance: Stefan Kügel, Benjamin Seeberger, Nando Seeberger
Direction: Dietmar Staskowiak
Artistic Collaboration: Joshua Seeberger
Music: Dietmar Staskowiak, Sophie Döbig, Cyriakus Alpermann, Stefan Distler, Dominik Back, Freddy Dathe, Stefan Kügel
Costumes / Stage: Nando Seeberger, Benjamin Seeberger, Fredrik Seeberger, Stefan Kügel
Venue suitable for wheelchair users to a limited extent (2 steps) – please notify the organiser at barrierefrei@figurentheaterfestival.de in advance. Box office accessible at ground level, please ask for assistance there. Wheelchair accessible toilet (Eurokey) in the immediate vicinity (Passage Markgrafentheater).
A temporary induction system will be installed for the duration of the festival. Audiences can use the induction system either via headphones or their own hearing aids. A limited number of FM receivers with neck-held induction loops can be borrowed for a deposit at the respective day and evening box offices. We kindly ask you to bring your own headphones.
| Preisart | Betrag |
| --- | --- |
| Box office: | 16,00 Euro |
| Box office reduced: | 10,00 Euro |
Service fees apply for advance booking.
Concession applies for school children and university students, apprentices/trainees, people serving federal community or military service, volunteers fulfilling a social/ecological/cultural year (up to the age of 30), beneficiaries of social security and ALG II, as well as asylum seekers, holders of the Erlangen Pass as well as handicapped people (from 50% degree of disability). Admission free for companions of handicapped people (identity document with B-remark). Only one type of concession can be claimed at a time and will be granted upon presentation of the appropriate proof. Please provide verification at the door.